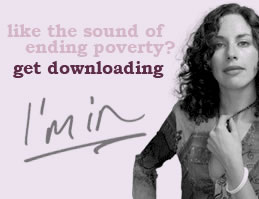 Music & DVDs
Like the sound of ending poverty? Oxjam is Oxfam's biggest, most ambitious, music event ever. We're asking musicians, promoters – in fact, everyone – to put on all kinds of music events during October to raise money for Oxfam.
Oxfam Music
Oxfam music is our very own music download store where 10p in every £1 that you spend goes to Oxfam. With over 750,000 tracks from over 30,000 artists there's something for everyone.
Blah DVD
Buy your CDs and DVDs from Blah! and you will be supporting Oxfam at the same time. Blah! will donate 10p to Oxfam on every item you buy from their online store.
eBay
We now offer collectable music and music memorabilia from our shops all over the country through eBay. This enables us to make the very most out of the goods people have kindly donated.
Shop Finder
Oxfam shops are a great source of rare vinyl and popular albums. Use our shop finder to help you find a shop near you.
Find your nearest Oxfam shop: